The Truth AboutVictoria Real Estate Fees
Trust Me, You Want to Read This Report, Even If you are Not Thinking about Buying or Selling Real Estate! This Free Report is approx. 30 pages jam packed with the real reasons why Traditional (high) Fee Agents charge so much and how they try to "scare" you in to believing their reasons why you should pay thousands too much.
We Debunk the 3 main reasons traditional Agents try you to agree to their High Fees.

Show you Why Buyers (not Agents) decide if they want to view Your Home.

We show our Complete High Impact Marketing System, that is Generating better Results, than that of the Traditional (high) Fee Agents.

We include the most Frequently Asked Questions about Greater Victoria Real Estate Fees, Agents Services, Marketing and Why This is the Best Time to Save Thousands on you next Home Sale or Purchase.

We also include Our FREE Buyer CA$H Program (no Traditional Agent high fee agent offers it).
If you or anyone you care for is thinking about buying or selling real estate, this report can and likely will save you thousands of dollars...
Here is the Link to the Free Report
The Truth About Victoria Real Estate Fees.
Also Learn How Much You'll Save!
With our Pfanntastic 1% Pay-Less Realty MLS® Selling System.
We Discount Your Cost, Never Our Service or Results!
Request Your Free Report Now, Learn How Much More Money and Less Stress You'll Have,
How to sell your home faster, smoother & put more money in your pocket!
Not Intended to Sever Existing Written Agency Agreements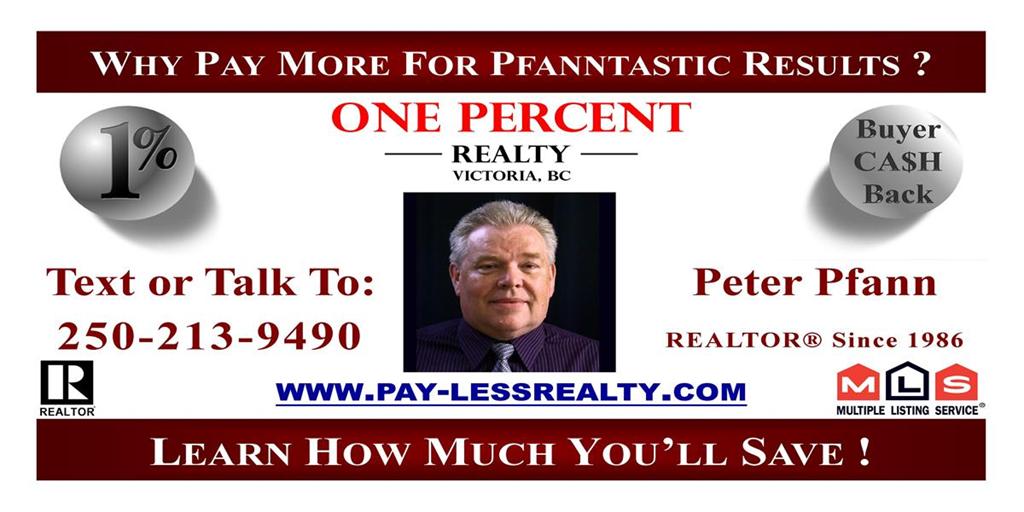 Here is the Link to the Free Report
The Truth About Victoria Real Estate Fees.
Peter Pfann,
CPCA, ABR, SRES, E-Pro, IMSD, Master ASA, C-CREC, Associate Broker.
Text or Talk To Peter @: (1) 250 - 213 - 9490  
peterpfann@gmail.com  www.pfanntastic.com
Pfanntastic Properties in Victoria, BC, Canada, @ Fair  Realty Since 1986.
Regional office: 1540 Fort St Victoria, BC V8S 5J2